Professional Past Life Regression Therapy
Welcome to your Home
for
Experiencing Life Transformation
through
Past Life Regression Therapy
"Sometimes, overcoming our fear to communicate new ideas to the world is what brings us joy."

-- Dr. Brian Weiss M.D.
It is in obedience to the orders of our Loving Master and in experiencing the joy of sharing, that we have started off on this humble endeavour--Amarantos, half a decade ago.
We feel very fortunate to have been taught directly by the guru of Past Life Regression Therapy Dr. Brian Weiss M.D. himself in The Omega Institute of New York, USA. Dr. Weiss is also a world renowned Psychiatrist and author of the 1.5 million copies selling classic, "Many Lives, Many Masters."
Amarantos in Greek means an unfading flower! Which is what the wonderful soul or spirit--that we are! It's eternal, blissful and because of which all "is".
Amarantos aims at solving even the most difficult issues confronting anyone. This is done using the new age Reincarnation science of Past Life Regression Therapy.
What our trainees say
Venu, you are a wonderful human being with such a deep capability to spread so much knowledge and love.

It was a privilege meeting you.
Mr. Ajay Anand – Senior Director- Infosys
Senior Director and Global Head Infosys
Venu, Your sincerity is a blessing for us.

We believe that the Masters have blessed us through you.
Dr. Nisha Rani – Psychologist
Clinical Director with Centre for Psychotherapy (CFP) Singapore 199018 www.centreforpsychotherapy.com
Number of years in service
5.5
Number of Applicants for Training
2175
Number of Trainees Shortlisted
70
Number of Genuine Therapists Trained
70
Resolve Your Past
Acute Stress Intervention and Mitigation Through Past Life Regression Therapy
Reduce Stress.
Control Depression.
Control or eliminate guilt.
Resolve Anxiety at its roots.
Cure suicidal tendency which is taking one life every half minute.
Relieve repressed emotions; release the past hurts.
Obesity and Digestion related problems.
Avoid illness, chronic diseases like asthma and other breathing problems.
Eliminate phobias and fears.
Reverse Self-destructive behavior.
Facilitate deaddiction from Drugs, Smoking, Alcohol and etc.
Manage Grief due to the demise of loved one.
Headaches due to stress.
OCD can be cured.
Deal with Breakups.
To Regain the Joy of Living
To help you live life even more joyfully.
Bringing in Harmony in relationships.
Forgive your parents, siblings, spouse, children, colleagues.
Heal Psychosomatic diseases.
Develop a sense of focus and concentration.
Be more effective.
Develop latent talents and unlock personal potentials.
Abrest with Confidence.
Develop confidence, power, control and choice in all actions.
Transform beings of action rather than reaction.
Find your passion.
Boost your career.
Reveal the meaning and purpose of your life.
Learn visualization for self-healing.
Learn to take action proactively instead of reacting to situations.
Learn the Profound Art of controlling your mind.
Amarantos News
Amarantos was invited to present at the International Health Tourism Congress 2017 and demonstrate to the technical media. Below is the report by Murali our honored Amarantos Trained Therapist. Day 1, Fri, Mar 03, 2017 The day started at 05:30 am for me. It was Mar 03, 2017 – first […]
Amarantos was invited to present the keynote speech and kick off the Annual Global meetup attended by Director to C-level executives. There were executives from all over the world. Our aim was to make a deep dent into their lives. They are people who are always on the move, and we focused on providing 20 […]
Past Life Regression Therapy for Indian Army
Know more
Venu Murthy
Mr. Venu Murthy is also a most sought after Technologist. Globetrotter. Innovator of a very advanced technology. He is published author of technical courses. He studied in Army School Bangalore and pursued a very successful Engineering Career. His most recent project has been in architecting the Airport Navigation system for Bangalore International Airport. You can know about all his professional achievements on linkedin.
He has been a student of Ancient Scriptures and Parapsychology for the past 20 years. Some years ago his life changed after rescuing an entire family committing suicide. That is when he found more value in programming minds to computers. Half a decade ago he founded Amarantos Past Life Regression Therapy center in Bangalore.
He has been personally trained by the world-renowned psychiatrist Dr. Brian Weiss M.D. at the Omega Institue in New York. He is the author of Amazon Bestseller, "My Mystical Past Life". He is now personally mentoring genuine aspirants from various facets of life into being Past Life Regression Therapist to meet the explosive need.
Coming Soon - Book - Why Me?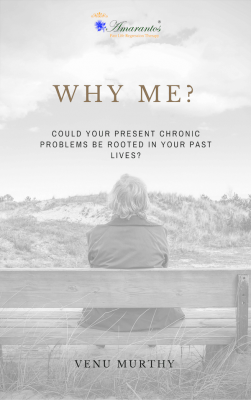 Relax and read more
Please Note: The views in the below write up are my own experiences and could differ from that of others. I am narrating this only to let the reader know that even in this skeptical world, such miracles are still taking placing. However Amarantos does not practice the healing narrated in this post. The Omega Institute, […]
"Lets go to the Berlin TV tower… no to Checkpoint Carlie… no Berlin wall", but my plans was otherwise. I was on a work assignment to Berlin a few weeks ago. It was very tight scheduled and with hardly any time to see anything.  But in that short span of time I wanted to attempt […]
"Even a best barber cannot give himself a good hair cut! can he?!" Thanks to all the lovely people who've expressed their joy of going through our earlier blog "My training with Dr. Weiss". It's been more than an year since I had the joy of meeting Dr. Weiss and the lovely people at Omega training institute […]
Read more
Do You want to Transform Lives?
Know more about Training in Past Life Regression Therapy through Experiential Workshops.
Are you looking for a session?
Do you want to book a Past Life Regression Therapy Session?